Celestron 20-80 Skymaster Binoculars
The sky at night has always fascinated me so I really wanted to try out a decent pair of binoculars to enhance the visual pleasure the stars and planets can offer. A little bit of research both in to manufacturers and the best specifications brought me to the Celestron Skymaster 20-80.
Like many products online, there are so many conflicting feedback to include the likes of reviews on Amazon to video reviews on Youtube. Setting aside the raging fans and the ones of loathed the products, the main stream of comments stated that the 20-80 set were of good value and enabled people to enjoy both daytime and evening time views.
So what about my feedback?
Upon receiving the set from Amazon you are already amazed at the size of these binoculars (330.2 mm x 241.3 mm x 101.6 mm) and when you remove them from the box, the weight also (86.4 oz) – These are no everyday usage binoculars, more so a commercial set! Basic packaging and basic extras such as a handy carry case (I suggest you upgrade carry case to something that offers more protection). Packaging and extras does not make you feel you have purchased a quality product, more a mass produced in China feel to things… This is not an Apple product that packaging is a key element!
The binoculars themselves look and feel good, though I would say that the price they are on Amazon (£115) is a little above what they should be, I'd prefer to see them under £100 and preferably around £89.99 – Not saying the price is not justified as these are popular so with this of course comes slightly inflated price.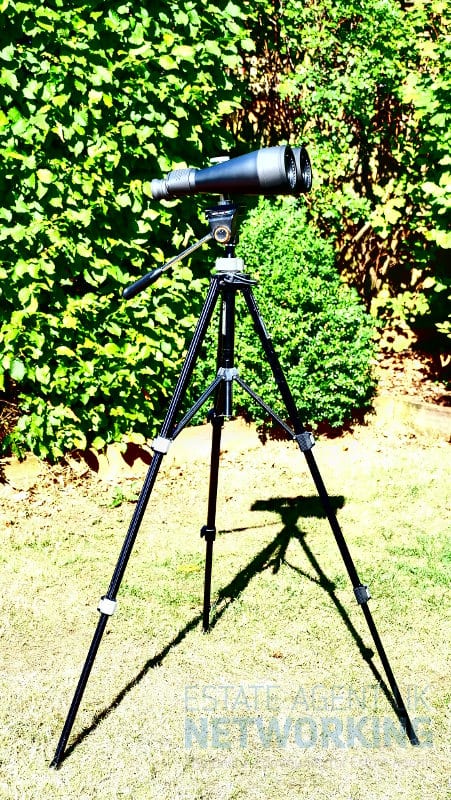 Firstly these are bigger than normal and weightier than you'd expect binoculars to be so first thing you should have in place and it will give you a better overall usage of them is a sturdy tripod. Try and not purchase a cheap tripod, opt for a photographers / videographers professional tripod (I spent £80) which will not wobble. These binoculars focus in with great detail and any little movement really jerks the scene you are viewing and will eventually become annoying. A solid tripod will be a good investment for the 20-80 binoculars.
They come with a metal central rod to connect to a basic screw fixing that fits nearly all cameras etc.
Quality of end product? So what can you clearly see through them? The 20 magnification certainly is an improvement on my old set of binoculars which were 8 x 50 – The image is in much more detail and is adequate for any amateur user.
Daytime viewing is great, light is good and you get a whole lot of image in the lens. I viewed some trees that were around 50 metres away and I could see the detail of the leaves and even insects flying around the ripe fruit of the tree.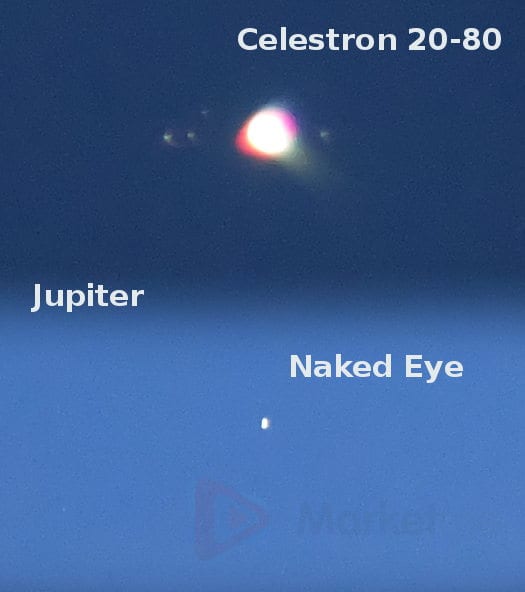 Evening viewing and especially planet / star gazing is also a positive for the 20-80 binoculars from Celestron. You do see on Google some images from others of planets that can be seen with them and I think some are a little bit exaggerated – I viewed Jupiter and Saturn and though you can see each planet and their moons (photo above, sorry for poor focus which is camera fault not lens of binoculars), I could not see in detail the rings of Saturn neither the red dot of Jupiter – Nonetheless, it was tremendous to see the moons surrounding Jupiter as it was the detail of the night sky and the abundance of stars that the natural eye can not see.