Whenever I get asked what business I am in and I reply with " I mostly earn residual income thanks to blog writing" I usually get a surprised and somewhat unbelieving stare back at me. For those people that are somewhat confined to that common old 9-5 day job five days a week then any opportunity to break free, and especially a business that enables you to work from home and simply blog writing, is a very attractive thought.
So, is it possible to earn a full time living simply from blogs or is it simply something that only a few people globally will ever be able to do… ?
The simple answer, and a firm reason for you to continue to read on, is that you can do it Yes! Many people earn money thanks to the growing popularity of sharing content online from an extra few pounds in your pocket per week to those earning six figure annual sums. The added beauty of being able to say that you earn your living thanks to blog writing is that you can more or less run this business anywhere from sat in front of your home TV with a cup of tea next to you (it is exactly my position writing this article) to those who can enjoy a dream life of travelling (many people are sharing content online and enjoying a worldwide tour writing from hotels, caravans, mobile homes, on the plane etc).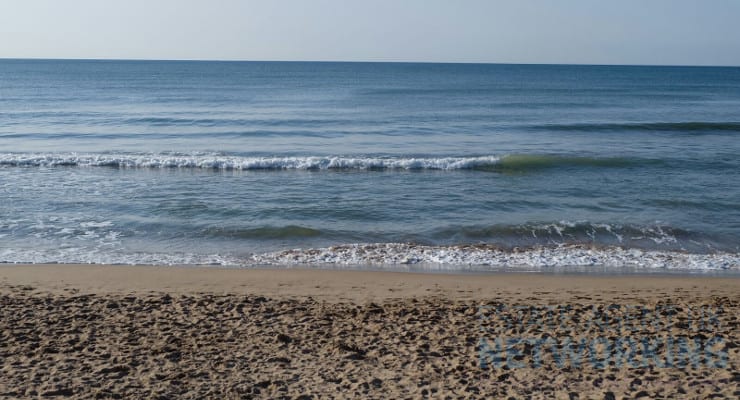 So, you are eager to get your new career underway in blog writing – where do you start?
For sure I, from experience, will admit that it will take hard work, dedication and you will require a little patience in order to get the ball rolling.
If you are looking to enter the world of blog writing then you really have a whole new world to embrace thanks to the internet where a large percentage of the worldwide population will be your audience. Today we are very hungry for latest news, information, advice, gossip and more and thanks to the likes of internet access via our mobile devices we are more or less able to engage with content 24/7 no matter where we are.
Businesses out there wish to reach these audiences, sometimes they are after local, sometimes national or even international, older, younger, male or female all of which can be found online so they are seeking the best ways on how to reach them – Here is where blog writing comes in to play.
With the above in mind you should now start thinking about how to get things underway. First you will need a website, you can contact a web design agency. For me, and I have always followed a set way for each of the websites / businesses I have built of which I earn money from blogs, these are the best tips to get things in motion:
Find sometime to research 'making money from blog writing'. Think about researching examples of people that are actually making money from blog writing (Youtube is a great place to find examples). See for yourself that it can be done, picture yourself being that person in the near future and set yourself a goal to do it. You have to persevere, it will not happen over night, keep that goal in mind at all times.
Follow a subject that you enjoy. You do not have to pick what may be seen as popular or business orientated topic such as property, finance and tourism you can simply choose something that interests you such as interior design, vegetarian cooking or 1970's fashion.
Get yourself a profile and a place to share. Do not think that you necessarily need to have that all new website flooded with whistles and bells that will cost £1,000's to build, you can have a simple do it yourself options. Choose yourself a name which you would like to be known as, this could simply be your own name, the title of your blog ie 'Spanish wine lover' or you can look to create a more business theme such as 'adventure holiday locations for those over 50'. You may also wish to create yourself a social media account to further increase your reach.
Research your topic online. So you have it already ready to start moving things forward, I suggest to research the kind of content / websites / people that already share similar content as you – What are they writing about, where are they sharing content, how often etc. Either look to follow in your own style what seems to be working, spot how others are not maximising what they are doing or spot areas which have yet been exploited ie if your website is themed on gardening then you may which to focus initially on how to rid your garden of unwanted weeds / plants / pests etc.
It is time to start writing, photographing, videoing. Now you should set some time aside to build your content and practise your skills at blog writing which are always bettered by quality photos (ideally your own) along with videos. You may initially suffer from writers block, but a simple search on Google if you have a blog title / subject in mind will open up your mind.
Set yourself an agenda. Now you are underway with populating your website with blogs you need to make sure that you are consistent and ideally continuing to study your subject so you can share content relevant to current trends / news / updates to further increase the chances of your blogs being seen.
Capture your readers. Now that your blogs are being read then you should look to entice these readers to subscribe to your blog so as to be updated whenever you write something new ie via a weekly newsletter – Make sure you have the option for readers to leave their names and email addresses via online subscription forms or pop up banners.
So what are the ways in which blog writing can earn you money?
You have built a reputation as a person of influence in a certain online subject and you get asked to write content for a businesses on your website, for their websites or print publications.
You own a social media channel such as Youtube or a Facebook page that has a large subscription / viewer count thus you will likely be asked to review items on video, write about products and share as updates, takes photos, release Tweets etc.
You own your own blog and will be contacted by businesses to share sponsored posts* on your site as you have made it in to authority website (websites are rated from 0 – 100).
You have built up a blog / news channel that is recognised within a certain sector and has become a destination of influence so you will be approached to share content on the website from businesses looking to reach the audiences you have amassed, you may also get requests to place banner adverts or to email to any subscribers you may have.
Making money from blog writing can mean either you writing the content or someone else doing it for you!
OK, it may not be quite as simple as that, ie someone writes blogs and you get paid, here I am referring to the fact that your blog becomes recognised by those businesses, primarily content marketing agencies, as a good website for them to share their client content on – These are the typical sponsored blogs which will have live links attached to keywords. Usually you will be sent an email asking you if you accept sponsored blogs or that the sender will produce for you quality content on a subject of your choice and send it to your for free and within it will be their clients links. Example email: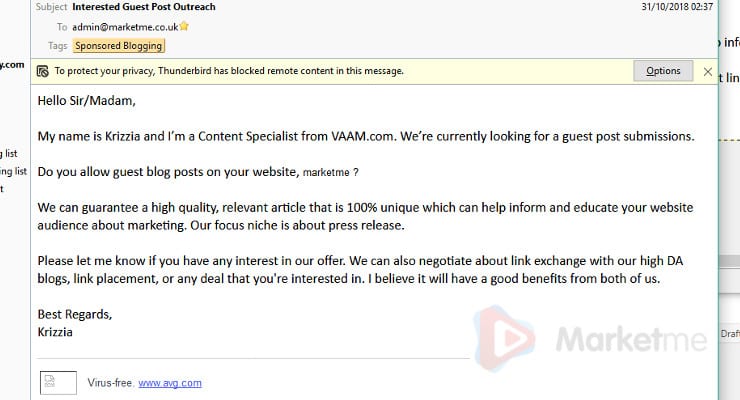 You should always reply and state that you welcome sponsored blogs though you have a charge for this service – You need to research these costs which will be anything from £5 up to £1,000's. If your website is just starting off then text the water with a low price and scale up as you grow. Some will accept, some will ask for a reduced price and others will chance their luck by saying they have no budgets and please let them have one post on your websites then they can work with you at a later date with paid for posts.
You may also be asked to insert links within existing articles you have written, once again aim to be paid for this service.
When people approach you to write content for them then this is where you can really push up your prices, as an example for one of my smaller website we charge £75 + VAT for writing services (200-400 words) and a further £35 + VAT to place the article on the website.
What money can you expect to earn from your website?
Things will start slow, they did for me, maybe £100 a month and this grows up to say £250 a month within the first year. As your clients grow and they share details with other content marketing agencies that you are a website that accepts sponsored blog posts then your enquiries will increase and of course the money increases. For m, currently, each website will bring in an average of £1,000 monthly of which I have now several. The money graphs since I started all show a constant curve upwards in earnings.
* sponsored posts: businesses / content marketing agents will usually place live links with articles and then search for websites to host the content in order to build their company's / clients SEO.