How To Optimize Your Facebook Business Page.
Social Media is a powerful marketing tool for your business, but are you doing all the right things to attract people to your facebook page? There are several very important features that can help you maximize the marketing power of your Facebook page. Here are some simple guidelines for how to get the most out of your business presence on Facebook. Let's break down your fanpage visually into 4 major parts to understand best how to optimize your profile.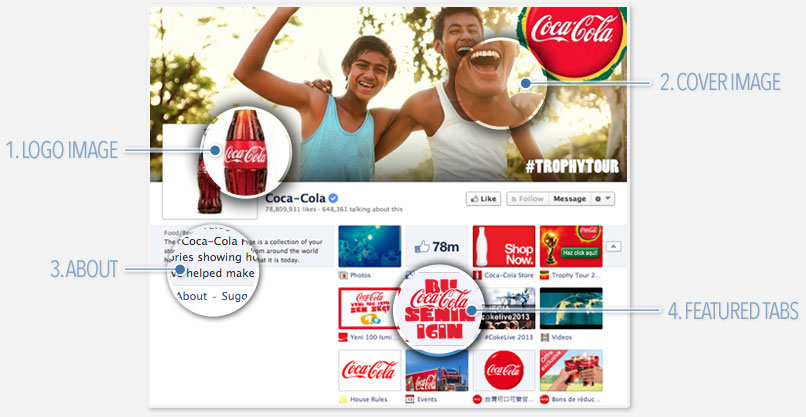 1. LOGO IMAGE
Your company profile image and cover photo are the first thing that the visitors will see on your page. It is very important to design and upload the highest quality images. The best file type for this purpose is (.png). Logo image should be clear with uniform background unless you want to play with overall look of your page. It sounds simple enough but it is essential to choose an image that people can immediately identify with your company. The proper size for logotype on facebook is 180px x 180px.
2. COVER PHOTO
Cover image is the biggest part of your fanpage that can be changed and it gives you a tremendous opportunity to promote your brand, products and services. Design your cover photo to interest your visitors. It is always good to include the CTA (Call To Action) on it.
When you launch a brand new app on fb, one of the best ways to promote it is to update your cover photo. You can gain attention to your new app by placing an arrow that points directly to your app tab. It is also great place to promote your special offers. Inform people about your special deals by placing product and message which you want to pass.
You can experiment with different images to see what people respond to, such as a popular menu item. The proper size for your cover image is 851px x 315px.
There are many more ideas how to design your cover photo. Important thing is to change it from time to time.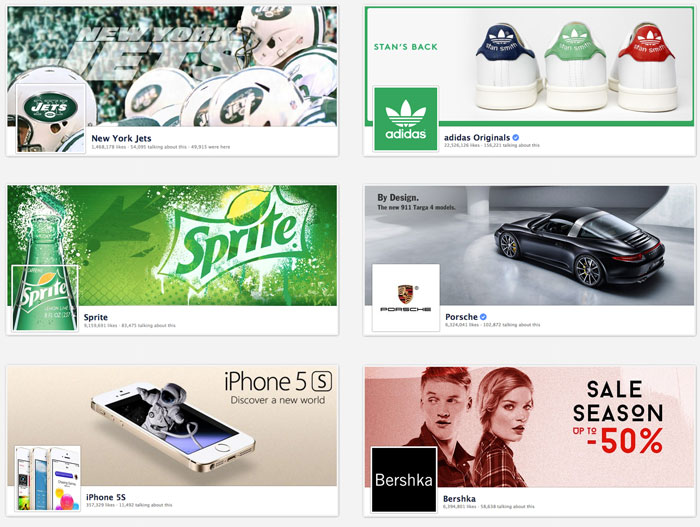 3. COMPLETE INFORMATIONS ABOUT YOUR COMPANY
This section will explain what your business does.It should be quick & consistent. People visiting your profile should have easy access to the key information about your company and especially to the contact details. You can make these changes at anytime by clicking "Update Page Info". After doing that you should fill in the fields like: address, phone, email, website etc. Give as much information as possible.
Remember, search engines will pull from the About section so this can help rank your company at the top of search.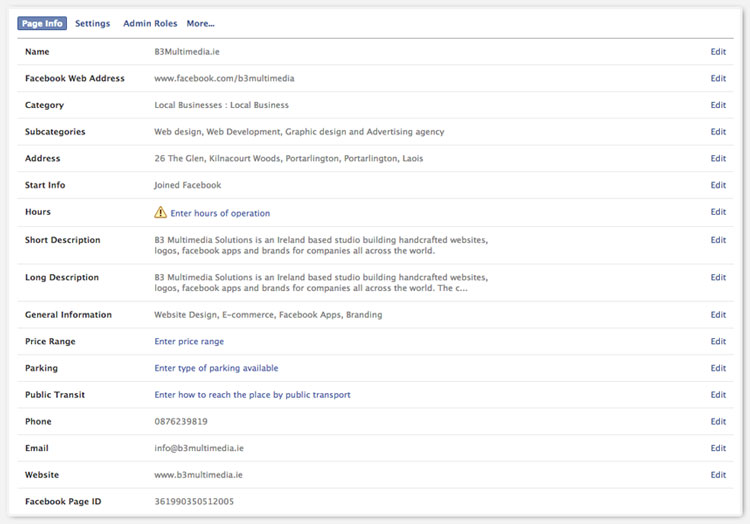 3. FEATURED TABS
Orginally this part of your page contains 3 tabs: Gallery, Likes & Map but Facebook allows you to create new customized applications and place them in that space. It enables you to expose an information about your company, services, special offers and other important things that you would like to show to people. Almost all thumbnail images (excluding Like and Map) are customizable which means you can play with them and design your page the way you want. By placing a specially designed Facebook Apps your site will stand out from the others and will be easier to attract new fans.