"This little number packs quite a punch, from the moment the package arrived you felt the quality would be good. The weighty box contained a standard size hand controller (near enough similar to an Xbox controller), one small yet robust drone with optional blade protectors, spare blades and the drone battery with charger lead (USB)."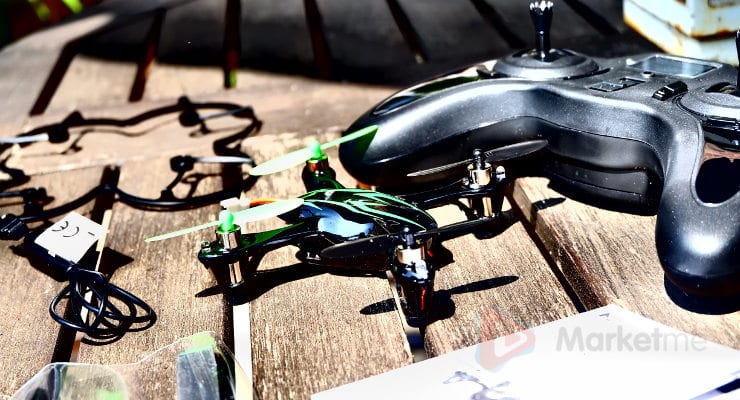 Some important key features of the Husban H107C:
Flight Time: 6/7 minutes from full charge.
Camera: 720P resolution
Distance: 100 metres.
Price: £20 +
Charging Time: 1 hour
Colours of Drone: Green Stripe / Red Stripe / Silver Stripe
When setting this drone up and getting used to the flying of it, I would really suggest looking at some videos on YouTube to give you a better understanding than the small instruction booklet provided. If anyone else is like what I am, I love to get items out and start playing about with them even before really reading instructions – This led to the first test of the H107C in that it quickly raised from its launch pad and darted left where it crashed in to a wooden fence and went about shredding the bramble bushes – It remained perfectly in tact and no damage so big thumbs up for it being robust enough!
Once you have a handle of things then I suggest adding the blade protectors to the drone, this will enable you to learn to fly it without too much concern of damaging the blades.
So what is the video quality like?
Tested inside the image quality is OK to Fair. A little bit grainy and suffering with no natural light.
Outside it performs much better and especially if in sunlight/ Note that no memory card comes with this drone so you need to purchase a Class 4/10 memory card, ie a 4/8/16G Scandisk or similar.
Value for money?
We know this is not going to be a DJY Phantom or DJI Spark etc – We are paying just £20 for a drone with HD camera so we are going to accept lesser quality. Overall this is a great little drone, compact in that it can sit in your pocket, you get an OK fly time, you grab some fine video content especially for social media and as it is not overly expensive, if the worst happens such as losing it or it gets damaged, then you can more than accommodate having to purchase a new one.
Fancy an upgrade?
The Hubsan H107D+ is available too!