Jam-pagne – How To Celebrate The Queen's Platinum Jubilee
In celebration of the Queen's Platinum Jubilee, Cottage Delight has launched a very special edition of hand-crafted jams, curds and marmalade to get more Brits inspired to bake.
They aim to revitalise the community street parties and garden parties in celebration of the British people and its vast history under Queen Elizabeth II, by baking delicious trifles, scones, cakes and cupcakes.
The Queen's Platinum Jubilee is on the 2nd to the 5th of June 2022.
The range of special edition Platinum Jubilee inspired products are certainly dressed for the occasion, with resplendent platinum robes, they not only look great they taste great too.
Located in Staffordshire Moorlands for over four delicious decades/nearly 50 years. They have vegetarian, vegan and gluten-free choices. Each Jar is made from 100% recycled glass and they've been working with Peak Waste for over 25 years, achieving 0% to landfill, minimising their impact on the environment.
After discovering how tasty the jam, curd and marmalade are, we now get the great honor of baking with them.
If you need Platinum Jubilee street party recipe inspiration, then check out these perfectly crafted recipes each created using a Cottage Delight jar.
Clotted Cream and Strawberry Flavoured Scones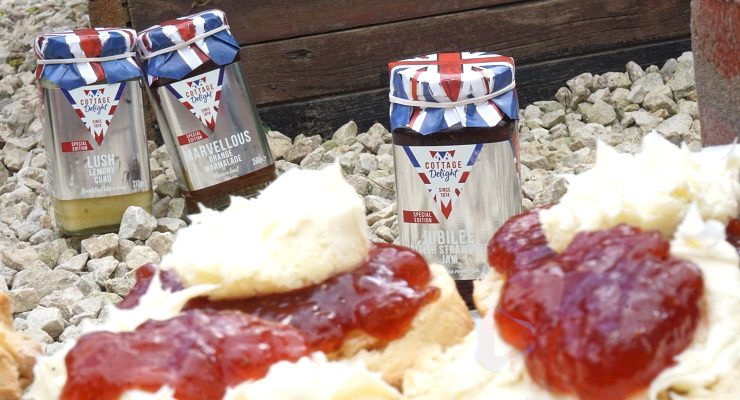 Ingredients
170g Cottage Delight Celebration Clotted Cream
375g plain flour
1 tbsp baking powder
1 tsp salt
70g granulated sugar
1 tsp vanilla extract
4 tbsp milk
160g diced strawberries
Cooking Method
1. Preheat the oven to 200°C. Line a baking sheet with parchment paper and set aside.
2. Toss the diced strawberries with a bit of flour in a bowl and set aside.
3. Whisk together the flour, baking powder, salt and sugar in a large bowl.
4. Add Celebration Clotted Cream, then stir in the vanilla extract and milk. Stir gently to form a dough. Add prepared strawberries.
5. Gently gather the dough into rough balls to create 6 scones.
6. Transfer to prepared baking sheet. Arrange scones on baking sheet with at least 6cm in between. Place baking sheet into the freezer for 15 minutes.
7. Remove from freezer. Sprinkle tops generously with white, granulated sugar. Work quickly so they don't warm up.
8. Bake the chilled scones in the oven for 15 minutes, reduce heat to 180°C/160°C fan/gas 4 and bake for a further 15 minutes until golden and cooked through.
9. Remove the scones from the oven and immediately put on a cooling rack to cool.
Triumphant Union Jack Trifle
Ingredients
1 jar Cottage Delight Jubilee British Strawberry Jam
135g pack raspberry jelly
420g sponge swiss roll
4tbsp cranberry juice
500g strawberries, raspberries and blueberries
480ml custard
360ml whipped cream
Cooking Method
1. Make your raspberry jelly in advance according to packet instructions. Pour it into a small rectangle or square baking tin, so it's roughly 1 inch high. Leave it in the fridge to set.
2. Chop your strawberries in half and then combine with raspberries and blueberries. Leave some fruit for decorating. Roughly chop your sponge swiss role cake into 2cm slices. And chop your jelly into 3cm squares.
3. To assemble, line the bottom of a trifle bowl with half of your cake slices. Press slices half way up along the sides of the bowl. Drizzle cake slices with 2 tablespoons of cranberry juice.
4. Add one third of the fresh fruit on top of cake, along with half of the jelly squares. Then, pour over half of the custard. Spoon over half of the jam evenly.
5. Repeat with the remaining cake slices, drizzling over 2 tablespoons of cranberry juice again. Add one third of fresh fruit and all the remaining jelly squares.
6. Pour over the leftover custard. Spoon over the rest of the jam. Scatter the remaining fruit over the top. Cover the top with plastic wrap and leave in the fridge for at least 4-6 hours or even better, overnight.
7. When you're ready to serve, add whipped cream on top alongside leftover fruit to create a decorative Union Jack pattern.
Sensationally Sticky Orange Marmalade Loaf Cake
Ingredients
120g softened unsalted butter (allowed to soften)
100g caster sugar
2 eggs (lightly beaten)
120g plain flour
1 1/2 tsp baking powder
4 tbsp Cottage Delight Orange Marmalade
2 tbsp milk
50g icing sugar
Zest of one orange
Cooking Method
1. Butter a 15cm loaf tin, and line it with baking parchment. Preheat the oven to 180°C/160°C fan/gas 4.
2. Beat butter and sugar together with an electric whisk until pale and fluffy. Whisk the eggs into the butter and sugar mixture. Sift the flour. Fold in the remaining dry ingredients – the flour, salt and baking powder. Fold in the marmalade and milk. Work gently to form a batter.
Transfer the mixture to the loaf tin.
3. Bake for around 55 minutes. Check after 40 minutes with a skewer. If the top has browned but the cake isn't fully cooked, then cover it with foil. Allow cake to cool for 10 minutes. Sift the icing sugar into a bowl, add the warm water and mix. Stir in the marmalade. Spoon the mix over the cake, letting it run down the sides. Leave to set before cutting. Sprinkle over zest.
Luscious Lemon Curd Meringue Cupcakes
Ingredients
125g salted butter
155g caster sugar
2 tsp lemon zest
½ jar Cottage Delight Lush Lemony Curd
2 eggs
150g self-raising flour
150g plain flour
125ml milk
Meringue: 4 egg whites, 215g caster sugar
Cooking Method
1. Preheat oven to 180°C/160°C fan/gas 4 then line a 12 cup muffin pan with paper cases.
2. Use electric beaters to beat the butter, sugar and lemon zest in a bowl until pale and creamy. Add eggs, one at a time, beating well after each addition. Add the flours and milk until combined. Divide mixture into paper cases. Bake for 20 minutes.
3. Once cooked, cut a deep hole from the centre of each cupcake and spoon 1 tablespoon of lemon curd into the hole.
4. For the meringues, whisk the egg whites until soft peaks form. Continue whisking and gradually add sugar 1 tablespoon at a time. Continue whisking until all sugar dissolves.
5. Use a piping bag to pipe meringue mixture over each cupcake. Use a cook's blowtorch to lightly toast meringues or bake again for 3-5 minutes until toasted.
Mini Patriotic Pies
Ingredients
12 tsp Cottage Delight Sweet Apple Chutney
2 sheets of ready rolled shortcrust pastry (320g each)
200g finely diced pork
180g mature cheddar, grated
1 egg whisk
Cooking Method
1. Preheat your oven to 200°C/180°C fan/gas 6.
2. On a floured surface, lay out both sheets of pastry and cut out 12 large circles and 12 smaller circles. Line a muffin tray with the larger pastry circles and spoon in 1 teaspoon of Sweet Apple Chutney.
3. Add 1 tablespoon of pork, followed by 1 tablespoon of cheese and a second tablespoon of pork. Press the fillings down to ensure they are tightly packed.
4. Top the pies with the smaller pastry circles and crimp around the edge to seal. Brush with egg wash and use a knife to pierce the top of each pie.
5. Bake in the oven for 20 minutes until golden brown.
Champion Caramelised Onion Scotch Eggs
Ingredients
5 medium eggs
300g pork sausage, skinned
1 tsp black peppercorns, crushed
25g sage, apple & onion stuffing mix
2 tbsp Caramelised Onion Chutney
2 tbsp mixed herbs
100g plain flour, seasoned, plus extra for dusting
100g dried breadcrumbs
Sunflower oil, for frying
Cooking Method
1. Bring a pan of salted water to the boil, then lower four of the eggs into the pan and simmer for 7 mins 30 secs exactly. Scoop out and place in a bowl of iced water, cracking the shells a little (this makes them easier to peel later). Leave them to cool, then peel and set aside.
2. Mix the sausagemeat, pepper, Caramelised Onion Chutney, stuffing and herbs in a small bowl, then divide into four equal balls. Squash one of the balls between a piece of cling film until it's as flat as possible. One at a time, lightly flour each cooked egg, then use the cling film to help roll the sausagemeat around the egg to completely encase. Repeat with the remaining sausage balls and eggs.
3. Beat the remaining egg and put on a plate. Put the flour and breadcrumbs on two separate plates. Roll the encased eggs in the flour, then the beaten egg and finally the breadcrumbs.
4. To cook the eggs, heat 5cm of the oil in a wide saucepan or wok until it reaches 160°C on a cooking thermometer or until a few breadcrumbs turn golden after 10 seconds in the oil.
5. Depending on the size of your pan, lower as many eggs as you can into the oil, and cook for 8-10 minutes until golden and crispy. Drain on kitchen paper, leave to cool a little, then serve