Keter Store It Out Max Garden Storage
Keter has certainly cornered the garden storage market here in the UK being stocked by many national sales outlets to include Amazon, Argos and Homebase. Reviews will be very mixed though mostly in the positive (above 2.5 stars out of 5) with many of the complaints being about the construction of the items and the understanding of instructions.
There is a wide selection of items available from Keter to cater for all storage requirements for most consumers from units to larger shed/garage style solutions.
We received the Keter Store It Out Max garden storage unit to put them to the test and give a genuine review of Keter Store It Out Max 1,200L storage unit: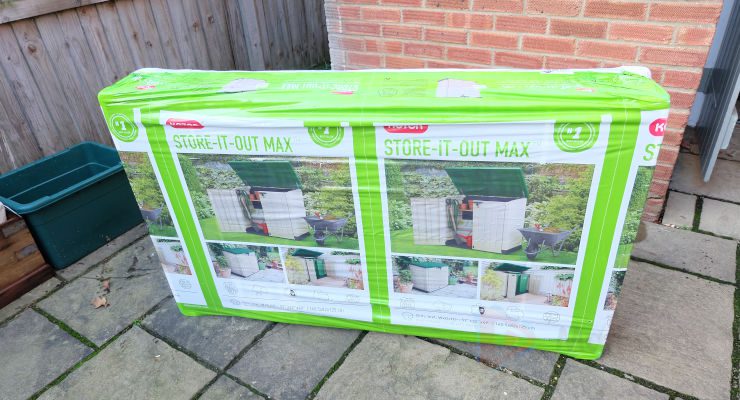 The item comes well packaged and suitable for safe transit and delivery, there were a few scuffs here and there on the packaging of ours though no damage at all to the items inside. You will require two people to move the box ie in to your vehicle and out or simply taking it out to the garden and laying it down so you can start to unpack it.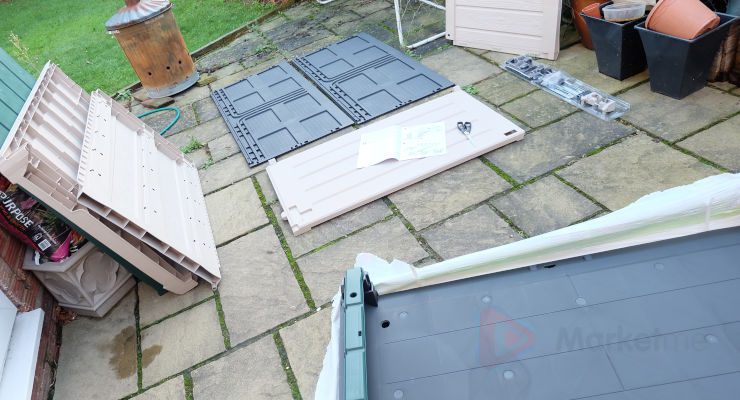 I always recommend that whenever you are presented with a detailed instruction booklet for that all new gadget / item then make sure you are relaxed, not under pressure, not trying to stay ahead of the weather and if you can, have yourself a cup of tea or a glass of wine to make the experience that little bit better.
The best thing to do with the Keter storage unit is unpack the items and spread them out so each can be clearly seen and you can identify each within the instruction booklet as each is labelled clearly.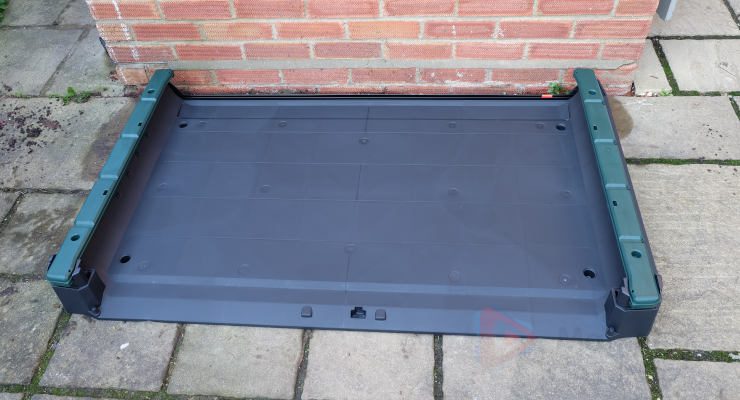 A good idea before you start to construct the item is to make sure that the area you are placing it is clean and flat. This may simply require you to take the garden brush out and sweep or may require you to lay a concrete base / level ground out.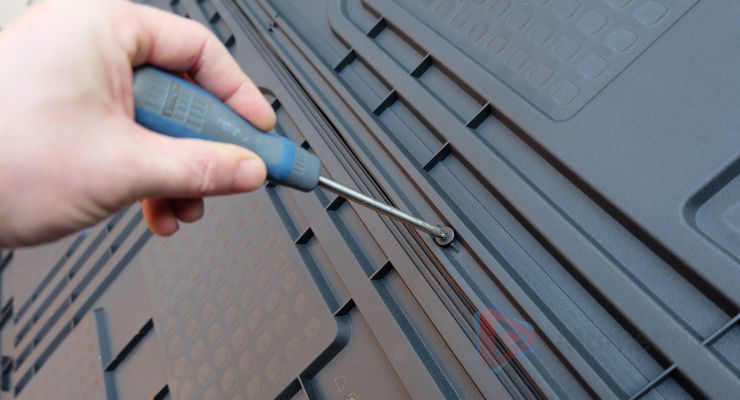 It is important to have yourself the correctly sized screw driver for the job (no tools contained within the Keter unit), this will enable you to easily fix the screws which are the main components that tighten the unit together. I have seen many negative reviews online that say you can not put the unit together without a drill (the instructions indeed show an electric drill being used to facilitate entry of screws), though I found it easily achievable and if you need to prompt slightly a screw then a light tap with the end of the screwdriver was sufficient – I used no drill to put this item together.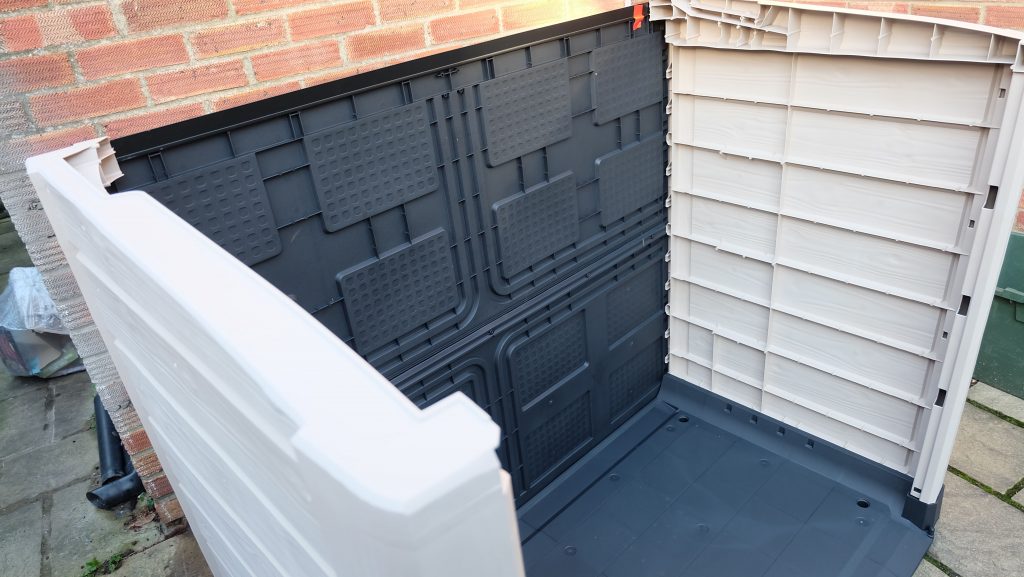 How long does it take to put together? Well by following simple procedures the total time was 44 minutes (which includes stopping to drink a cup of tea). The unit comes together in a very simple formula of which the instructions are clear and set in a way that you are not needing to struggle trying to hold multiple pieces in order to fix them together.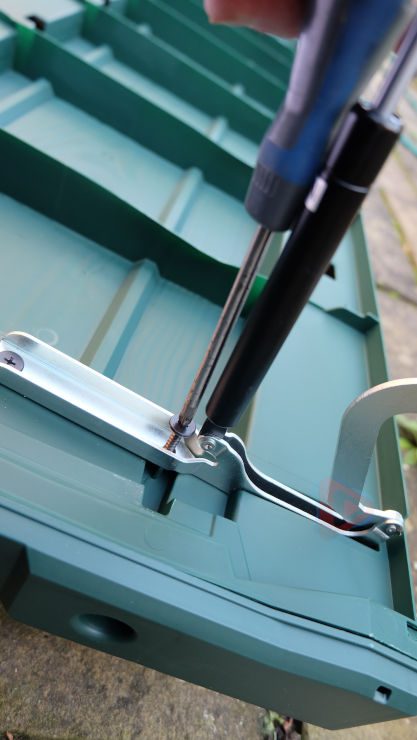 The only one slight issue which takes this item down from a 5 star to a 4.5 star review is the two screws that are positioned slightly too close the the hinge mechanism of the lid. They are still able to be fixed (made easier at a slight angle) though I would recommend that this screw was positioned slightly away from the 'arm' of the hinge to enable easy screwing of the screws each side.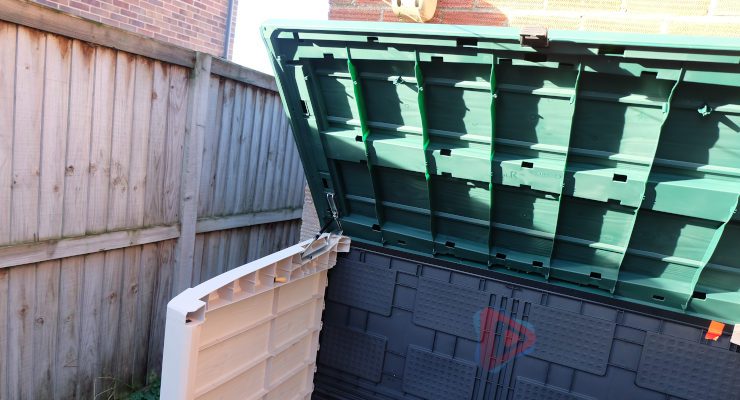 The instruction booklet does recommend two people for the construction at one stage which is when you are securing the lid to the main unit. It is simple to do without the need of another person, you simply lay the lid in place and if you have so far constructed the unit together securely it sits on top neatly enabling you to fix in the four screws.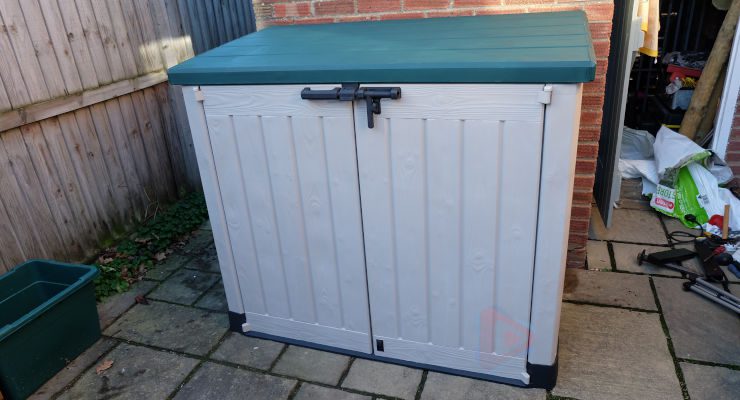 From there you just need to spend time adding the handles and locks which require a few screws and then attach the doors and you are done. It really is such a simple process, fairly quick to assemble in my mind for such a solid and useful product. It is sturdy, the internal base strong enough to walk on and the doors close tightly with the lid eliminating any rain water to enter (driving rain may cause issues if whenever this weather presents itself so I recommend no valuable items to be stored such as those which will be effected by dampness).
The Store It Out Max Garden Storage will not deter any thieves as it is made of plastic as is the lock which a hammer or metal bar will easily break, but for simple garden items and non valuable items that you simply need to get out of the way then the storage unit is ideal. It is certainly solid and sturdy, I doubt windy days will effect it.
The price for the item can vary depending if the retailer that stocks them has a sale on, prices range between £99 to £149.