Without prejudice:
I rarely will use one of my major news channels to speak about my own direct issues with companies, but with regards to Ryanair I will easily take an exception to the rules.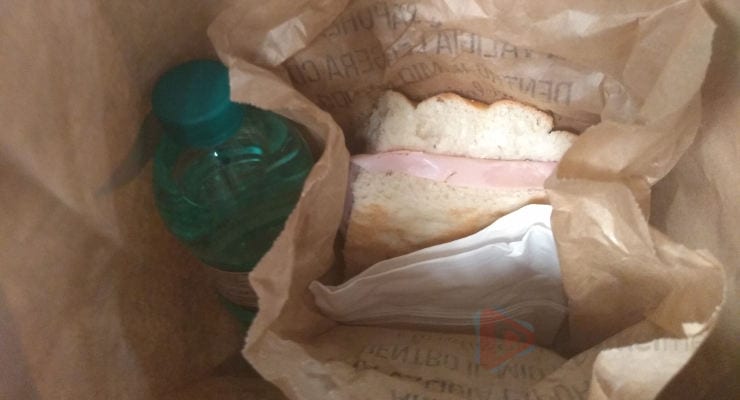 Ham sandwich and bottle of water – 8 hours delay on Ryanair flights – Regardless to being vegetarian or not!
I remember a few years back, DPD really messed me about with a delivery, said they had delivered when they had not and at the time cost me a full day waiting in at home for no reason, as a self employed person this was financially costly so I set up a DPD complaints page and today I get many emails and comments from my Facebook page dedicated to the people who have issues with this sub standard service – DPD Deliver Services, satisfied customer? All I requested from DPD at the time was a refund on my postage costs, now it has become personal…
Forward on a few years and though I have encountered this business Ryanair many times previously with a certain amount of 'OK' service, acceptable as of their fairly low costs, I have stumbled across a gross misconduct of service. So here we go again I hear you say, but for the rights of us consumers who pay for a service and expect a return on our payment, ie a service we were promised, another war will commence and shouting-out to my growing audiences.
So Ryanair – Firstly, I am not the only person or group of people with an issue with your airline, let me share Facebook pages of others who have received a gross misconduct of service from you:
https://www.facebook.com/groups/124965587536352/
https://www.facebook.com/groups/162170587594906
https://www.facebook.com/groups/7599826037
https://www.facebook.com/groups/263759814405650
https://www.facebook.com/groups/111413472223388
etc, etc, etc…
Now on to my issues and many others let down by you on the same flight (actually two flights on the same day). I was meant to return to the Stansted airport from Ciampino Airport (CIA) Rome Airport Ciampino – Ryanair flight FR3015 on a day that yes had some severe weather reports for an hour or so, though also saw many flights land and take off before our eyes after small delays.
The FR3015 flight that was set to depart at 14:05 was initially delayed until 15:30 then quickly to 20:05 and your passengers ie customers where co-operative and waited patiently after being given a sub standard bottle of water and sandwich (no tokens offered so no tea could be taken which was immensely desired by me I can tell you). So on to 20:05 and then a further delay until 21:20 where then immediate boarding was pushed through the tannouy. Queuing until we were called to board then the first 20 or so, including me, of the priority booking checking through the gate and go on to the bus ready to take us to the plane, but no… There was a problem!
"Please remove yourself from the bus" we were told "as we are not sure where the plane is" said the gentleman in high visual overalls (that we were later to learn was the supervisor of the airport). We obviously asked why on earth had we progressed this far with no plane waiting for us to board and we had no answers as the supervisor went back and forth between us and the runway as he was looking to see if a plane for London Stansted was going to land… Something you need to see to believe let me tell you!
Reluctantly us customers to include children went back to the gate and waited for any news, nothing came until around 10pm when it was announced the flight had been cancelled! So what now… What now everyone cried, are we stranded, where do we stay, our children are tired and hungry, older people needed a rest, can we sleep at airport, will Ryanair sort us a flight back within 24 hours, who was our contact point? Why was there no one from Ryanair to explain to us the reasons that we had been waiting for a plane delayed by over 8 hours that now was not here for us??
We all waited, queued, was given water and ham sandwiches even though amongst us were vegetarian, people that were kosher and children / babies. It wasn't until near mid night that one person, no tannoy announcements, stated that a hotel was arranged for us to stay overnight and we need to find our own way back to the airport the next morning though all flights are booked for a further three days. Maybe make your own way back home was the suggestion, pay for it yourselves and then contact Ryanair…
I was one of the very lucky few that I was an invited guest to Rome and my organisers acted quickly, what I thought Ryanair would have done, and they found me a hotel and re-arranged my flight back with another airline at another airport of Rome for the following day at Fiumicino International Airport.
I hear now many people had to make expensive trips back, long winded and stressful and had their overall trips totally ruined thanks to a sub standard (goodness knows who lets this happen and allows them to trade legally) service from a multi-million pound company in Ryanair.
Facebook page for my flight and the horrors that went with it: https://www.facebook.com/groups/352504665321425/
I have heard since that Ryanair are rejecting any claims for refunds – this is joke of a service and customer care… The Ryanair service what we received has been already featured within Metro online and bbc – I will continue to share on social media their pig ignorant attitude and warn people off using them.
Thank you to a professional airline of Alitalia for getting me home after this ordeal with Ryanair:
Full copyright to images and videos belongs to Marketme.TV LTD – No usage without prior permission. No usage whatsoever by BBC, Guardian, CNN or similar fake news media channels.