Social Media for business is quite literally using networking platforms to improve online branding, awareness and ROI. The likes of Twitter, Facebook, Pinterest, YouTube, Linkedin etc are social networking websites that allow person to person engagement, the ability to form groups/boards/pages/profiles to attract the attention of potential clients and to improve SEO (Search Engine Optimisation).
To gain the best results from Social Media you need to know your product / service better than your competitors, understand who your target market is and how they interact as well as having a strong on line brand presence for your business. If you lead with these three key elements, then efforts on Social Media websites will give your business results.
Know your products / services inside out.
Know your target audience and how best to interact with them.
Have a clear on line business message and strong branding / website.
Be able to dedicate time to both engage / deliver relevant content and study the analytics of each social media platform.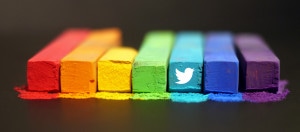 Photo Credit: HowToStartABlogOnline.net
Most Social Media platforms allow you to track your progress and added to that being able to study your website's on line traffic the bigger picture of Social Media for your business should start to take shape. Think about how your potential clients / customers interact, what time of day they are most actively looking for what you offer and which platforms engage them better – What works for one industry may be totally opposite to what works for another.
Study performance of each Social Media Platform in how traffic is driven to your business website.
What time of day do you receive the most web traffic, is it during working hours or between 7-9pm?
Look at what competitors are doing and if needed, replicate what seems to be working.
Maintain your audiences on Social Media sites by being regular in when and how you deliver content. Reply when questioned, say thank you when someone shares your content, be diplomatic if you receive negative feedback and remember to stay well clear of debates on Government, Religion and Football (in some businesses it many be safe to enter these topics).
Experiment – Social Media is currently free. If it is then down to time and not enough of it, choose a trusted management company to take over, but always keep a keen eye on what's taking place and see things such as 'Monthly Progress Reports' as a standard offering – Closely monitor progress.