Why your brand should focus on Google+ in 2014
Google+. Many have heard of it, ignored it, laughed at it.. but for those of us who manage communities or a brand's social presence, we are starting to see just how important it really is. Here's why your brand should be focusing on Google+ in 2014:
1: It's Google!
Companies invest large amounts of both time and money to influence how they appear on Google searches, and to make it easier for people to find them online. While Google+ may not yet be as popular as other social media networks such as Facebook, Twitter and LinkedIn, it's integration with Google services is a factor that cannot be ignored. Go ahead and search your brand name on Google, you'll be surprised to see just how much of an impact Google+ has.
In fact, a direct search for your brand name will now have an information "widget" to the right of the search results with information about the brand. Notice something about it? Yes – it's Google+! Brand description, Google+ followers, and even recent posts are all shown. Here is an example from Sony: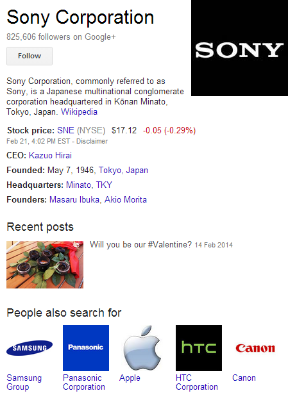 2: Many experts are already seeing a direct relationship between Google+ and search results
Check out the results from a recent scientific correlation study done by Moz which finds that a Google +1 is more highly correlated with search rankings than any other factor: http://moz.com/blog/google-plus-correlations
3: Social Signals will play a major role in 2014
If you don't know what a social signal is, you need to. Many community managers and SEO experts are well aware of the importance of keywords and quality content on SEO ranking, but social signals haven't exactly caught on as a mainstream SEO concern. While the exact importance and role of social signals is still unclear, it is clear that they are going to play a major role in 2014.
I recommend that every community or social media manager open a free account at http://signl.com/home/ and get information on their brand's social signal and score. You can also check out this article on social signals published by Moz: http://moz.com/blog/your-guide-to-social-signals-for-seo