The road to social media success is a long and arduous one. There is no quick fix and it can become very time consuming. For a lot of businesses, social media has become one of the hardest marketing platforms to crack.
The best place to start is with the simple things. Everyone shares their links on social media, but it can be a pain when your URL is very long as it makes the post less tidy. This problem is amplified when using Twitter as they only allow for 140 characters.
Although URL's are automatically shortened on Twitter, they still look incomplete.
URL shorteners are a great way to share links without clogging up the post with long links and wasting valuable characters on Twitter.
Below are 5 of the best URL shorteners on the market:
Goo.gl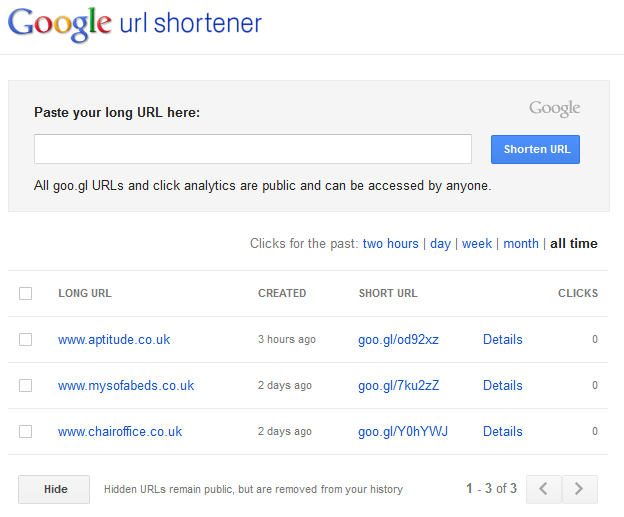 Google's URL shortener is sleek, simple and efficient. But that is to be expected from the internet's powerhouse. Login with your Google account to get a rundown of all your previous shortened URLs along with a nice selection of statistics for that particular URL. View total clicks, referrers, countries and platforms.
Not all URL shorteners offer statistics, so it's good to take advantage. If you are not signed in when using Goo.gl, you will be given the same shortened URL as someone before if you are both trying to shorten the same URL. This then doesn't give you access to personal statistics for your URLs.
If you are a fan of QR code, you're in luck. Goo.gl also gives a QR code for each of your shortened URLs.
Bitly.com

If you've spent any time on social media, chance are you have clicked on a Bit.ly link before. Bit.ly URLs are one of the most popular shortened URLs out there. Bitly comes with a variety of features, along with it's easy to use website.
Track all of your links and the total clicks for each link via bitly.com. You can also group all your links into 'bundles' for a unique collection for Bitlinks. This is perfect for when you are running multiple projects with different social media accounts.
Unfortunately, shortening a link via Bitly will give you the same URL as another person shortening the same link. Although it tracks how many saves a URL has received, it may be hard to track just how well your share has been doing.
A new feature from Bitly allows you to view 'Your Network'. All your friends on Facebook or people you follow on Twitter that use a Bitly link comes up in a feed which you can view. How useful this is will be down to personal preference.
Tinyurl.com

Tinyurl are one of the oldest players on the market, which is easily identifiable by their website, but don't let that discourage you.
Tiny URL has a great feature of adding your own custom alias to make your shortened URL more personal.
For example:
http://www.hotelcontractbeds.co.uk/blog/2014/05/12-content-ideas-for-your-hotels-blog
turns into:
http://tinyurl.com/HCBcontent
Tinyurl also has a preview tool which allows you to view the original URL before you proceed. This is certainly helpful if you are clicking a link from an unknown source. This feature must be enabled via Tinyurl.com.
Ow.ly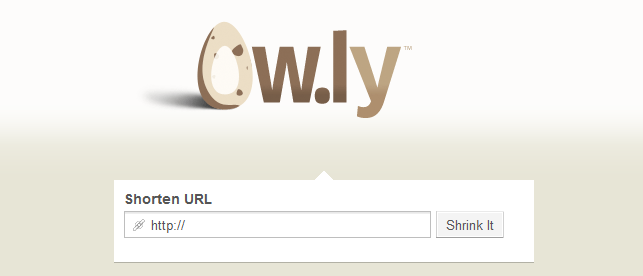 Although Ow.ly has less features than its competitors, it does have a feature that the others don't. Ow.ly allows you to upload a picture or document and gives you a unique short URL to share with whoever you like.
From here, users can download the files for their own use. You will be able to upload videos also to an Ow.ly short URL in the future, but when that feature will be available is still unknown.
Unfortunately Ow.ly doesn't offer any statistics for the URLs it stores, so you cannot analyse how well your link is performing.
Mcaf.ee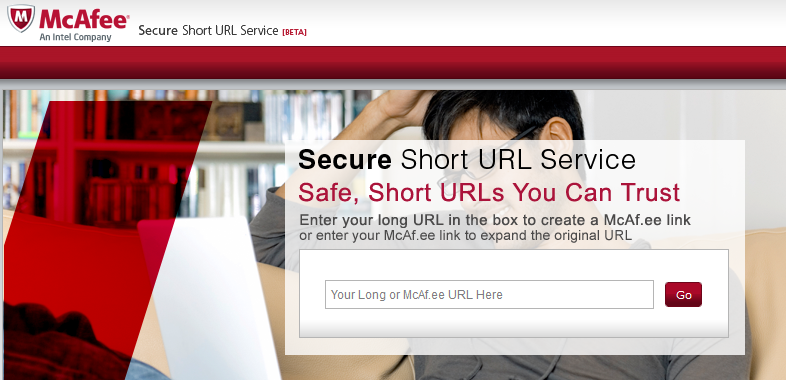 Mcaf.ee as you can imagine comes from the very popular internet security provider, McAfee. It does not possess the capabilities of the other URL shorteners, but it will warn you when someone has tried to send you to a suspicious site via a shortened URL which can be extremely helpful.