Introducing Google +Post Ads and What They Mean for Advertisers
Google recently introduced a new advertising medium for their social media platform that will allow marketers to "create compelling ad experiences and make it easier to extend the reach of [their] social content." The new advertising option has been rightfully dubbed +Post Ads and it essentially enables marketers and brands to convert engaging content into full-scale ads through AdSense. Those ads will in turn be displayed across more than 2 million sites which participate in the Google Display Network. As for what kind of content can be converted, it can be anything from a simple status update, photos, videos, Google Hangouts and even Hangouts on Air sessions.
There are Limitations
Not just anyone can take advantage of the new ad functionality. Advertisers must first meet the following requirements before they can take advantage of the +Post Ads:
Active Google+ page with at least 1,000 followers
Post in question must include content relevant to the target audience
Must have opted in to share endorsements for Google+ pages
Google actually rolled out the new +Post Ads in December, 2013. However, they weren't rolled out on a grand scale and only a select few marketers were given access. Obviously, they've chosen to open up access to more advertisers.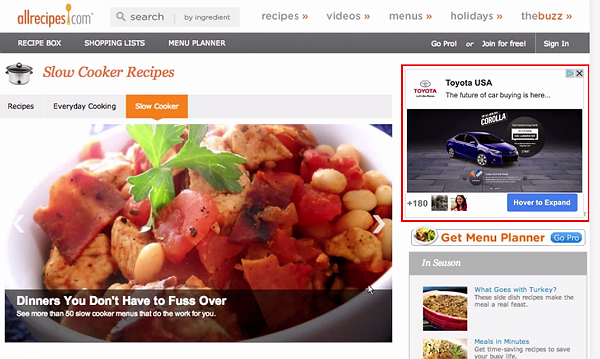 How Can You Use Them?
When you convert regular Google+ content into +Post Ads it takes the post and displays it all over the web through Google's AdSense program. To offer an example, Toyota ran an ad on the AllRecipes web site. The ad shows up like any other AdSense visual ad but when users hover over it, it becomes interactive. It works just like a standard Google+ post and users can comment, reshare, +1 and more without ever navigating away from the original site. As a result, Toyota USA reported 50% more engagement with the +Post Ad than traditional advertisements.
In other words, taking advantage of the new +Post Ads should increase customer engagement across the web.
Why is This Good for Advertisers and Marketers?
One of the most effective ways to boost sales and awareness in your brand is to engage and interact with customers. Without diving into the particulars, that's exactly why social media networks are so vital to a successful business.
Google has taken the modern advertisement to new heights with +Post Ads. Instead of simply running an advertisement to potential customers, +Post Ads encourage engagement.
For instance, let's say 12 Keys rehab is running an advertisement that offers help to those in need. A standard ad would display the call to action, and the user would have to click on a link to visit their site. With a Google +Post Ad 12 Keys could essentially run an advertisement about checking into a rehab clinic, to which users could hover over the ad and immediately receive advice and help. There is no requirement to leave the site they are currently browsing, and the engagement can be immediate if the user is in fact interested.
What we're really talking about here is a streamlined marketing push of various social media posts. If you're not already excited about it at this point, there's not much else we can say to convince you.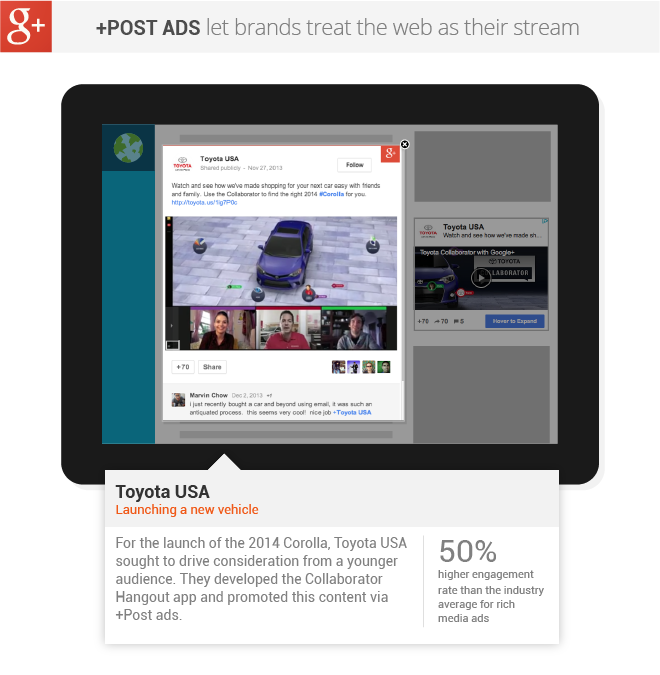 Additional Features
Advertisers can also take advantage of a new feature that allows the promotion of Hangouts on Air across the web through +Post Ads. The advertisements will allow interested parties to RSVP to the event, tune in to the broadcast while it's live, and even view a recording after the event has completed.
According to Google, "ASOS hosted a shoppable Hangout where fans could check out styles and make purchases from a collection created in collaboration with a global activewear brand. The event was promoted live in a +Post Ad, driving awareness and live tune-ins of the event on relevant web sites."
This means that the content was not only promoted on the social network but across the web on various third party sites who participate in the Google Display Network. 71% of the live viewers for the Hangout actually watched from a +Post Ad on one of the aforementioned portals. To clarify, they watched the broadcast through an advertisement.
It goes without saying, the new +Post Ads have some potential for advertisers.
Images: Megan Trace | Google