Let's start with a plug for Twitter – Look our for competitions and enter them for you might be a winner of a great prize! Also, think this as a great promotion for your own business as it gathers you many followers and interactions and sometimes you only need to giveaway something of very little financial value for it to build you positive traffic.
So, our win from Nathan Ariss who is a well known and respected animation artist: http://www.arisscartoons.com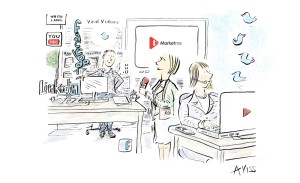 "Nathan started drawing cartoons at a very young age, utilising crayon on wall, and progressing on to pen on paper – though he doesn't rule anything out these days.
His cartoons and illustrations have appeared in publications such as Private Eye, Spectator, Reader's Digest (UK), Prospect, The Oldie, Saga and Business Executive magazines, as well as Slightly Foxed, some rather interesting wordy books, school books, song books, greeting cards and theatre posters.
Nathan takes great pride in producing high-quality artwork for a wide variety of clients, from corporate campaigns to private, bespoke commissions."
Marketme were pleased to be a recent winner of a free animation drawing from Nathan Ariss depicting the atmosphere at the Marketme offices and our passion for Social Media. We think he did a fantastic job!